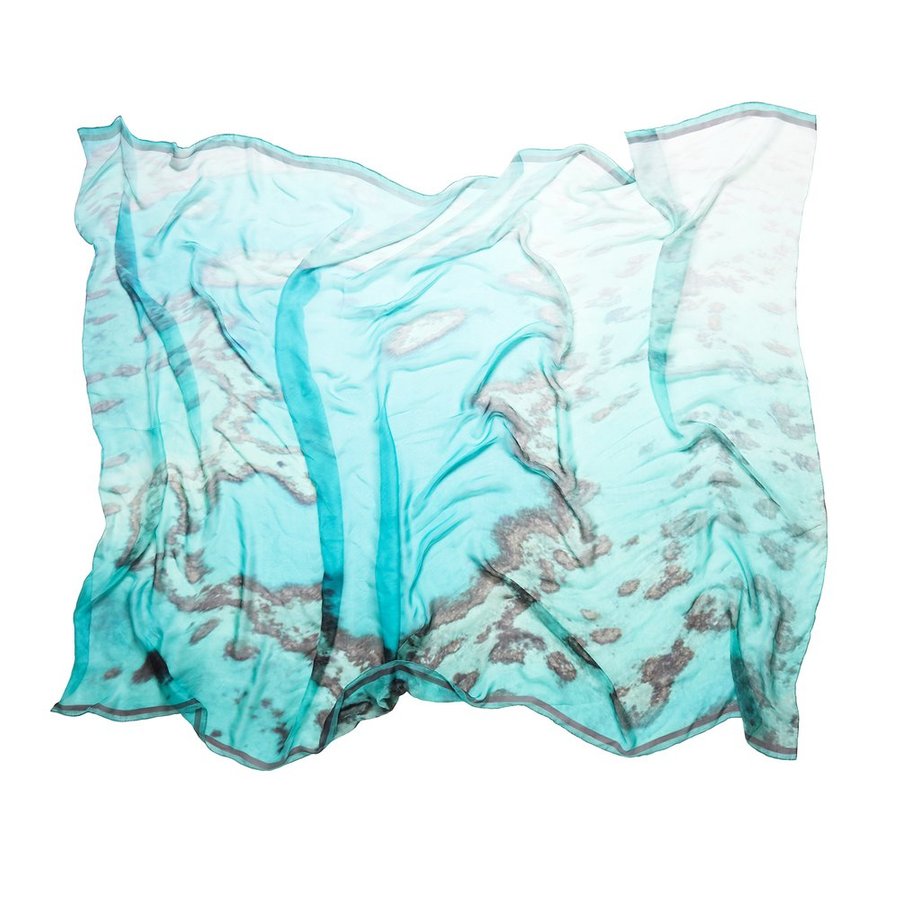 COVID Update: Since July 2020 Sophie moved back to England her home country, where she is now looking at a more sustainable way of printing her unique scarves.
She is consulting for various brands for custom accessories, sustainability and branding projects. Please ask for more detail via email: sophie@sophierobnertson.com
How the Brand Started:
Established in 2013, Sophie Robertson started her accessories label based on underwater photographs she took whilst living on board a boat in Cairns on The Great Barrier Reef. Sophie was exhibiting and selling photographs at the time in London and Brisbane, Australia.
Sophie was born on the south coast of England but moved to Australia after completing her Fashion Photography BA degree at Central Saint Martins and London College of Fashion. She learnt how to dive in Thailand and then completed her PADI diving licence with underwater photography as a specialism.
With a focus on luxury and style Sophie has created other collections such as Atoll II (a silk chiffon range designed to be worn as a sarong), Local, based on Sydney landmarks (skinny scarves, designed for the city slicker), Hamilton Island (based on aerial shots of Hamilton Island and surrounding islands) as well as custom for various clients.
Contact me on +61 (0) 450 278 197 or email me sophie@sophierobertson.com to discuss a project.
Interview with Carlie Tasker, UK based travel blogger @carlietasker
How did you start your brand?
My first collection of scarves was created in 2013 - I had just moved from London and had been living on board a boat on the Great Barrier Reef where I became a certified underwater photographer. I had amassed a huge collection of underwater photographs, which I wanted to use in a way that was accessible to everyone. I had exhibited Fine Art prints before, and wanted to do something other with these photographs.

I had studied Fashion Photography in London, and previous to that I had studied fashion design and pattern cutting, so making prints, fabrics and clothing seemed like a natural progression for me. My first collection was based on my underwater photographs, which I had abstracted and multiplied. It was a process that I greatly enjoyed, and I had a lot of control over, so I was immediately excited to make the next collection… and the next, and the next…

Most recently I created the Local collection that was based on my favourite Sydney landmarks. Unlike my previous pieces, which were small silk scarves or large chiffon sarongs, these were skinny scarves that were designed for the city slicker. I did a Hamilton Island collection that was based on aerial shots of Hamilton Island and its surrounding islands, and I also do custom projects for various clients including Revlon, Halcyon House and Greenpeace.

What do you love the most about working for yourself?
I love the freedom that working for myself brings - I am able to travel wherever and whenever I choose to, and can plan work around other commitments, hobbies and people. Having this flexibility is amazing - time is the certainly the greatest luxury.
What do you like the least?
Without doubt it is doing my taxes - the one downside to working for yourself!
Where do you take your inspiration from?
Australia, beauty in nature and Gary Vee.
Three places you want to go but haven't been yet?
I am desperate to go to the underwater spa and restaurant in The Maldives after working for my client Addicted to Maldives. My sister went to Copenhagen recently and has been raving about it ever since - so that has to go on the list and finally the Ice Hotel in Sweden.

Desert island read?
The Alchemist by Paolo Coehelo – to remind me it is about the journey not the destination.

Where is your favourite spa?
I adore The Langham in Sydney. The pool is stunning - just like a starry night.
Also at the Saigon Hotel Des Arts spa in Ho Chi Minh followed by pool time on the rooftop.

If you could only pack one product what would it be?
Eyelash curlers - my favourites are Shu Uemera.

I have been training with my personal trainer Jamie 3 times a week for the past couple of years now - we mostly do a mix of weights, boxing and cardio, which I have actually grown to really enjoy. In general, I walk a lot (excluding the occasional Uber!) as I don't drive and I love to explore wherever I am by foot...
What skincare do you trust?
I am a convert to a German brand, Biodraga MD, after being introduced to it by my facialist, Peta. I love their BB Blemish Balm with SPF 15 - it is really light and is a saviour when my skin is looking less-than-perfect . I have used Origins GinZing eye cream and creamy cleanser for years because my mum also swears by it! I like to keep trying new products, but at the same time try to use products that are as natural and organic as possible.
How do you look after your skin on long – haul journeys?
I always use SKII face masks on my skin on long haul flights, but actually I think the most important thing that I do on long haul flights is to avoid the plane food! I drink loads of water and take protein balls and activated nuts to keep me going, and this mini cleanse ensures that my skin looks its best and it also seems to really help with avoiding jetlag (my mum assures me that this is to do with detoxification and circadian rhythms!)

Holiday Playlist?

I listen to Spotify playlists by my sister's boyfriend - he is a DJ in London and he makes the best playlists - my current favourite is called Norfolk Bangaz (and his Spotify name is Hanburg)

Travel tips?

Take a camera everywhere - you never know what you might find, and what you could turn it into and a universal adapter plug to charge at the airports.

Shopping abroad?

In Sydney, Skarfe and Industrial Bling in Potts Point.
In London, I love Portobello and Soho - both are great for strolling around, stopping off at all of the vintage stores and delicious cafes. Also, because I grew up in England, I have a total soft spot for Liberty's!
Where have you just come back from?

This summer I went travelling around Europe - I went to Greece and Italy with a friend and then to my parents place in Spain, which was such a treat! I met my family in England and then set off from there… My highlights were Aegina in Greece, where I stayed with friends who took me to all of their favourite spots - we ate in the most delicious restaurants and saw some of the island's hidden treasures - such as the Hermes olive trees. Italy was fabulous - the Wes Anderson cafe in Milan has been on my list of places to visit for a while, as was the Blue Grotto in Capri which was even more beautiful than I was expecting. The whole trip has inspired me to create a new scarf collection on this summer's experiences.

Where have you felt happiest?

At home in Bournemouth, drunk- dancing with family for my last birthday. In the summer I am happiest at the local beach, Seven Shillings in Sydney. It's also so exciting when a new collection of scarves arrive for the first time and I can see the collection coming together!

A place that most lived up to the hype?

Other than the blue grotto in Capri and Santorini this summer, I thought that Hamilton Island was absolutely stunning... I took the seaplane over Heart Reef with my boyfriend, which was truly spectacular - it's a must see, go before the reef is gone, I donate a percentage of each scarf sold to a charity, Barrier Reef Foundation which is used to conserve the reef.

What is your favourite city?

I think it has to be London - I lived there for about 5 years when I was studying, so the whole city felt like such a new and exciting place to be. My sister still lives there, and even when I go back now it still gives me the same sense that anything could happen there! It is packed with culture, and seems to have the most open minded, creative people. However, for pure beauty and incredible architecture, Florence is also on the list!
What's the best hotel you've stayed in?

Pestana di convento in Salvador Brazil. I stayed there last Christmas, and it was truly stunning! It is a convent that has been converted into a hotel, and it had been done with such charm and integrity. Each of the hotel rooms overlooked the central courtyard that was lined with tropical plants, and that had a circular swimming pool with vivid green water! Next to the pool was a beautiful mirrored bar that served Brazil's best caipirinhas, (we tried a few to make sure).